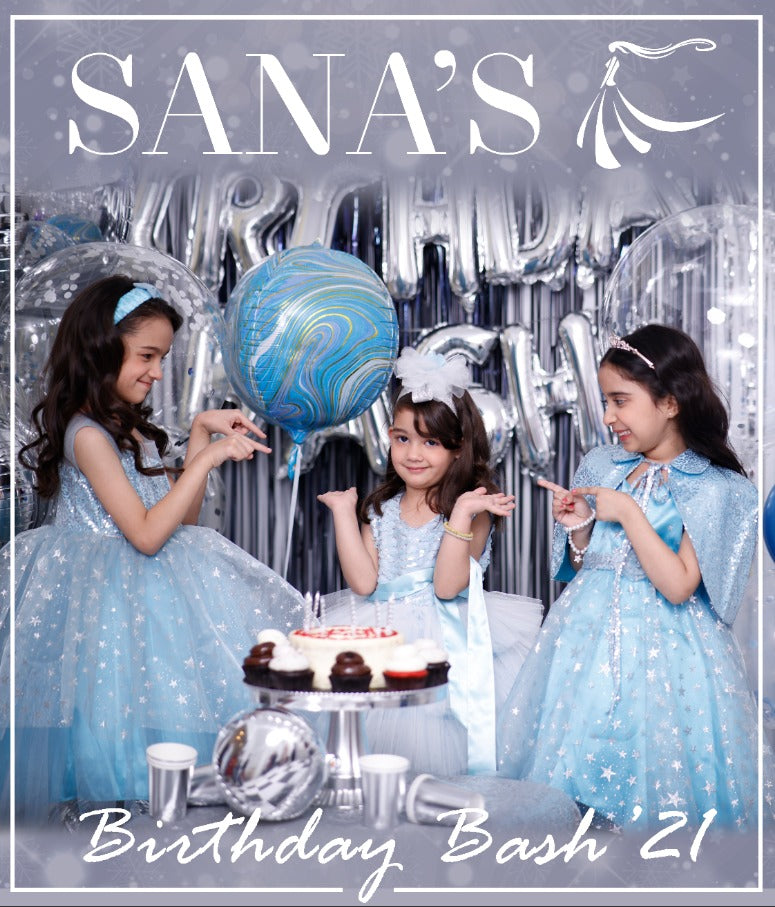 SANA'S Birthday Bash'21
Posted by: Farrukh Ahmed -
Let's take a feel of all Glitz, Glamour and Disney princesses through SANA'S Birthday Bash tale, parted in two chapters.
Both have a feel of glitz and shimmer through its color palette and fabrics. The party silhouettes are much comfortable so all little princesses can enjoy the party ride.
The highlight of the collection is the use of textured sequin fabrics used with manipulation of designs and embellishments.
The Birthday Bash Chapter one is more towards SANA'S glitzy frocks made in beautiful forms of multi and textured sequins, Moonlight fabrics, Glitter Net with tie and dye surfaces.
 This part of collection holds 11 designs and all are made differently with some concept behind.  Like, the opening of collection was made from the beautiful midnight blue and white star net frock having bell sleeves with full slit, was inspired by the most said rhyme ''Twinkle Twinkle Little Stars". Along with that similar colored star net frock with ruffled neck and bow was grouped.
Similarly considering SANA'S customer's required similar dresses or same themed outfits for sisters and friends for twinning; variation in either color or style is designed specifically for that.
Since tie and dye has been trending in fashion, multiple frocks in glitter net having tie and dye effect were designed with different styling like, long pleated body with short flare and smocking body with sequins yoke with long flare in different colors like indigo, plum, rust, grey and blue.
Other set of frocks is designed in disco inspired multi sequins frocks, one having uneven hemline and paired with purse and other have a peplum style body with black net multi layers flare.
When it's all glitz and shimmer in SANA'S frocks, it has to have moonlight in there. We at SANA'S are very particular about our fabrics and quality; hence this moonlight was customized made from international market in a bit subtleness considering the comfort of kids. This frock is made in a very contemporary style with cutout sleeves and multi flares, made in charcoal grey, royal blue and salmon pink colors.
Moreover in this chapter the solids of maroon and navy blue have been also in high demand, made in bold square shaped imported sequins body and shimmery net flare with an element of oversized bow.
With all types of cuts and flare there was the most trending design of tutu frock having long body of multi chevron sequins in all party pop colors with flare of multi layers of those colors and bow on both sides.
Following with that, there comes SANA'S Birthday Bash Chapter Two having 15 designs in frocks.  This chapter is more inspired by the Disney princess's characters, like we have an Elsa frock in with variation of two other designs, made in glitter star organza and powder blue sequins. Then there is Mermaid inspired two frocks and both are completely different in styling, one is having a short sequins yoke body in metallic sea shore colors with long multi colors of mermaid flare and the second is a tutu frock with long body and cap sleeves of metallic sequins with pastel shades of mermaid in ruffled flare.
There is also a unicorn inspired frock made in those colors upward ruffled body, following with contrasting belt and downward ruffled flare.
The collection have many other highlights also, fused in different  styles of frocks, ranging from shimmer star crinkle with oversized sequins bow , to black and white striped sequins body with bright pink multi layers flare frock, to the multiple designs in black glitter net made with peacock colors textured sequins and two tone sequins. 
SANA'S Birthday Bash'21 collection is a crux of all party wear frocks made in full style considering all fashion trends in mind.