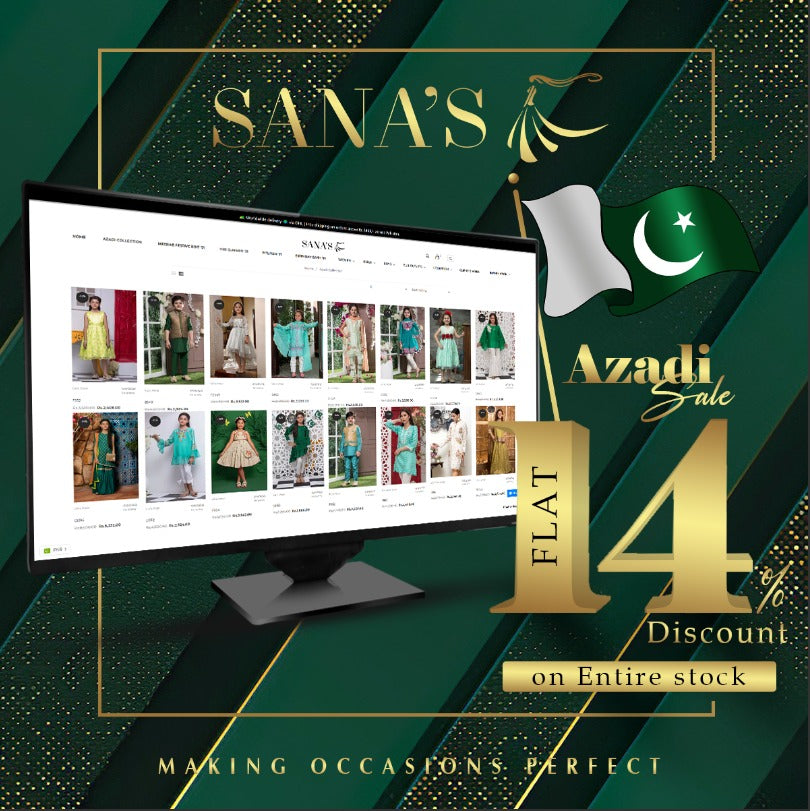 Azadi Sale Flat 14% OFF
Posted by: Farrukh Ahmed -
Celebrate Pakistani Independence Day with Flat 14% off on entire stock, including new arrivals.
Flat 14% off on entire stock. The entire stock on all products with flat 14% offer will be available for a limited-time period. This offer is valid only at www.sanas.pk.
 Make the most of your shopping and get flat 14% off on entire stock for a limited period.
 Azadi collection for our Independence Day, get Flat 14% off on entire stock, including new arrivals.
We want you to feel special every time you wear an outfit that is specially designed for you. So, browse through our collection, make your choice and we'll ensure that it's delivered to you before your next date!
New  outfits to help you stand apart from the crowd. From standard, printed, fun and quirky to extraordinary cold shoulder and long kurtas, we go all out to make sure you have the perfect outfit for every occasion. Feel like a diva in our asymmetric blouses and maxi dresses.
We have crafted a style that is all our own. Our brand strives to give you the hottest options for blouses, maxi dresses, and many other styles that are complemented by trendy prints.
Sanas is a boutique that specializes in women's clothing. From maxi dresses to asymmetric blouses, we make sure to have items that fit any occasion, whether it be casual or more formal. Whatever you choose, we make sure to put a little fun in everything we do so you look outstanding when wearing our clothing.
With upcoming independence day, Sana's will be celebrating the freedom in all of us. So whether it's been raining or the sun is shinning, save your azadi and shop a wide range of clothing for women and kids online and avail 14% off on every purchase.
Chances are, even if you don't know what you want to wear, we do. Our gorgeous selection of women's clothing has all the styles your closet needs—to make every occasion a happy one.
There's nothing like finding the right dress for a special occasion. With so many gorgeous styles to choose from, we can help you find one that feels perfect!