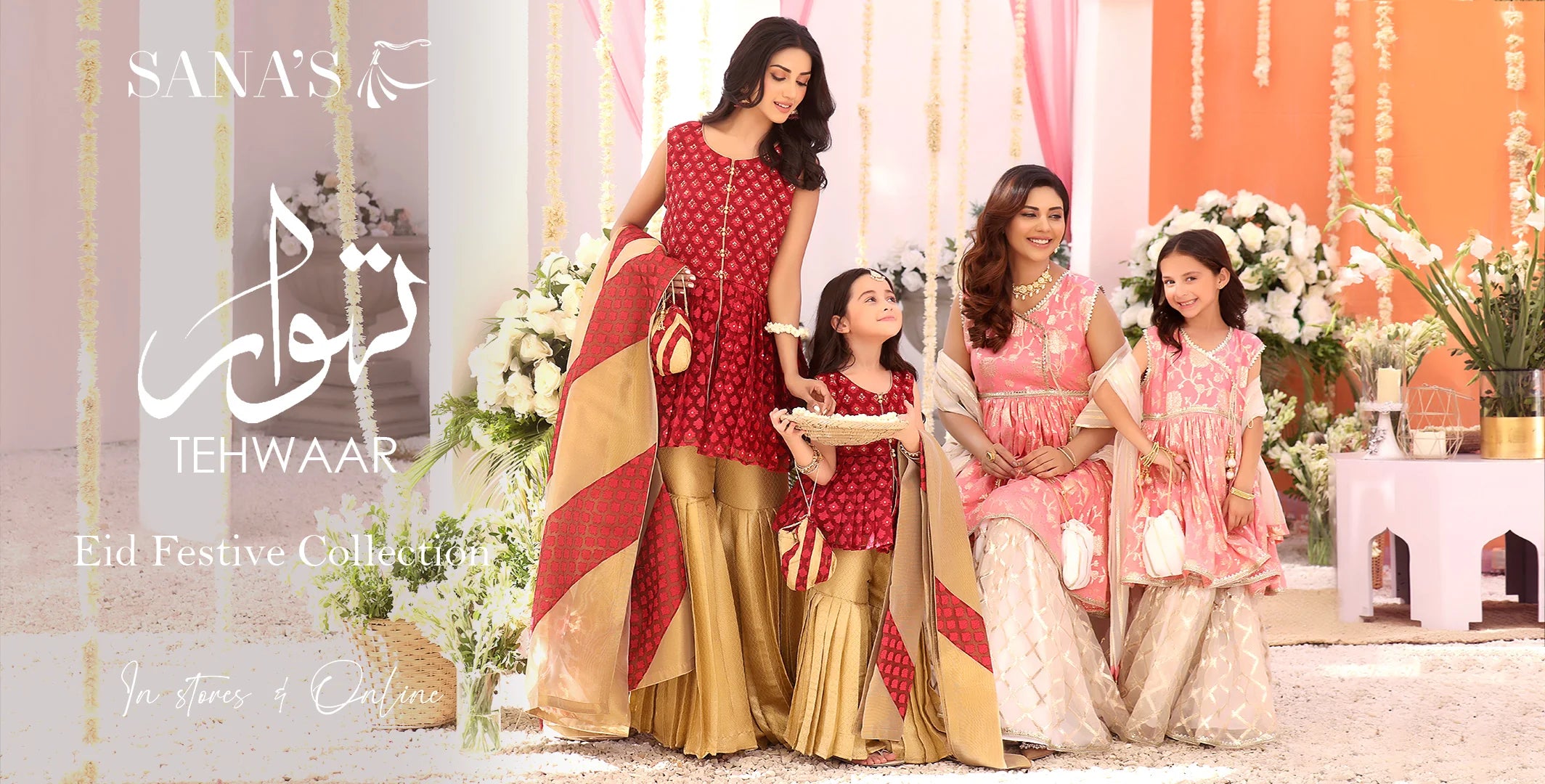 TEHWAAR FESTIVE COLLECTION
Posted by: SANAS OFFICIAL -
Celebrate EID with SANA'S TEHWAAR Festive Collection

EID is a time for celebration, and what better way to celebrate than by dressing up in style? At SANA'S, we are excited to announce our latest festive collection, TEHWAAR, which features a range of outfits for women and girls. Our collection includes maxis, ghararas, and 3pc suits, as well as lehengas for girls.

Women's Collection

Our women's collection features a range of stunning outfits that are perfect for EID. One of our standout pieces is a long maxi with intricate zardozi handwork on the body, along with back neck bail and botis on full sleeves. This beautiful piece is made from organza and comes in black. Another stunning piece is our chiffon maxi with handwork detailing on the front and back neck, along with full jaal work sleeves. This outfit comes in a beautiful torquios blue color and is paired with a kalidar gehra along with organza ruffle with lace finishing.

Girls' Collection

Our girls' collection is just as stunning as our women's collection, featuring lehengas, maxis, ghararas, and 3pc suits. One of our standout pieces is a cotton lorex angharka style top, paired with a contrasting organza lorex gharara with lace finishing and dupatta with trim finishes and tassels. This outfit comes in a beautiful candy pink color and is perfect for little girls who want to dress up like their moms. Another stunning piece is our lychee silk shirt, paired with lychee silk boot cut pants and a contrasting masuri dupatta. This outfit features zari aari embroidery around the neck, daman, and both sides of the shirt in kurta style, and comes in a beautiful torquious blue color.

Outfit Pairing Suggestions and Styling Tips

To complete your EID look, we recommend pairing our outfits with statement jewelry, such as jhumka earrings or a bold necklace. You can also accessorize with a matching dupatta or hijab, depending on your preference. For shoes, we recommend wearing heels or sandals, depending on the occasion and the outfit.

Conclusion

At SANA'S, we believe that fashion should be fun, stylish, and affordable. Our TEHWAAR festive collection is a testament to our commitment to providing our customers with the best in fashion. Whether you're looking for an elegant gharara or a fun lehenga for your little girl, we've got you covered. Celebrate EID in style with SANA'S latest TEHWAAR festive collection.