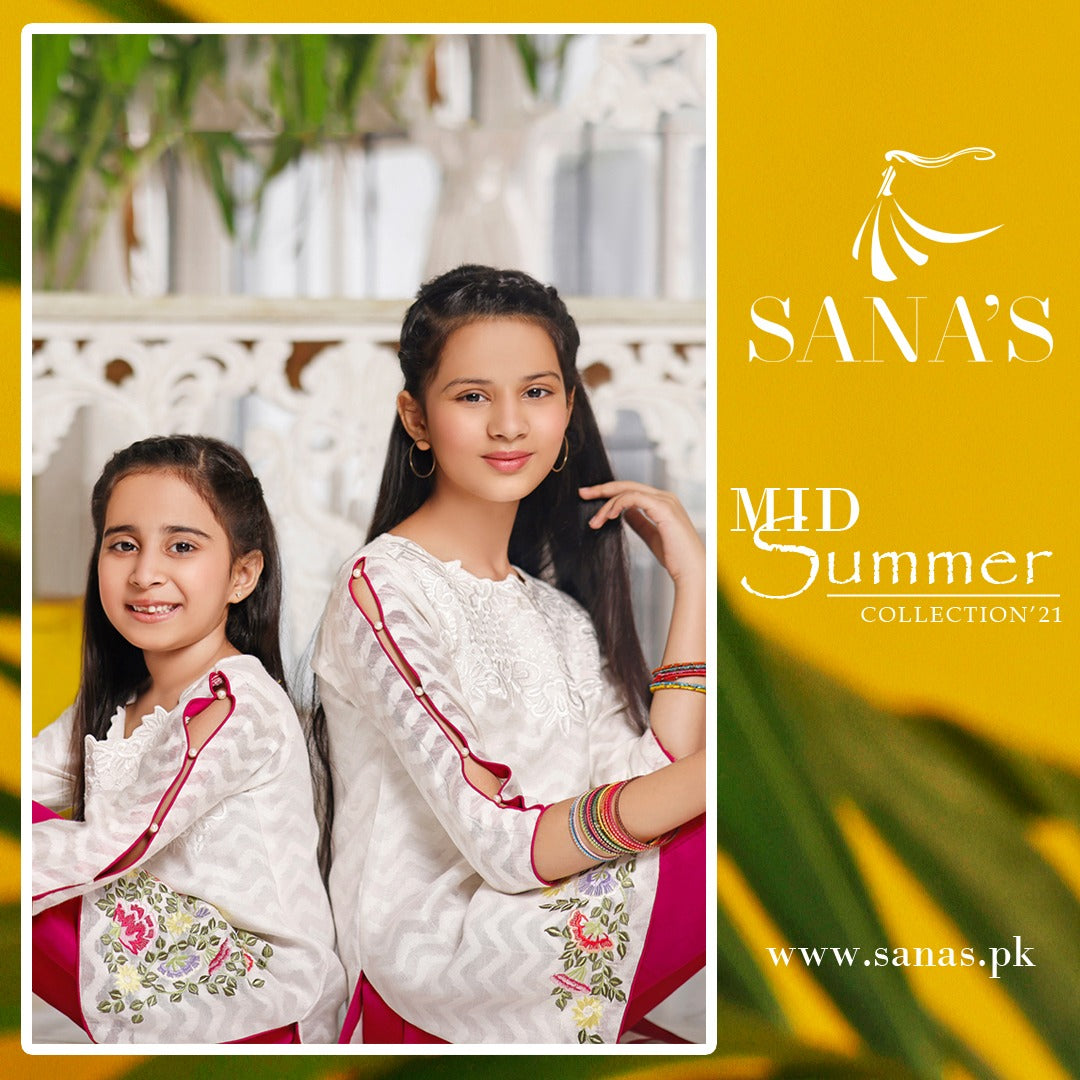 Mid Summer Collection
Posted by: Farrukh Ahmed -
https://sanas.pk/collections/midsummer-21
The SANA'S Midsummer21 is an assortment of gorgeous dresses to make your little princess look absolutely fabulous.
https://sanas.pk/products/m3067
This long hot pink Net Maxi by SANA'S is perfect for your festive wear. It has a contrasting black butterflies embroidery all over handwork detailing and black sequins belt at front which adds to the beauty of this outfit.
Bold and feminine, the traditional maxi gets a colorful twist. This glitter net outfit is embellished with hand embroidery, cutting across the length for a stylish look. The rich palette will take your spirits soaring, while the contrast belt lends an element of comfort. Pair it with the sequinned dupatta for that extra touch.
This is daisy themed party wear open sleeveless mid summer net glitter net long maxi dress. Comfortable outfit for office and party wear. Best for party wear parties, clubbing, wedding events and any special function.
Effortless style, quick on the go! Crafted with proven stretch net fabric, this hot pink maxi features contrasting black embroidery in the front with a belt at the waist. Style with some strappy heels and a gold tassel necklace to achieve a glamorous look for parties or weddings.
The midsummer21 is a fresh and young style made with stretch fabric in soft pink. An outstanding design of light-catching sequin makes you the center of attention all night long. The photorealistic butterfly embroidery and handwork detailing adds an element of uniqueness to this piece for fall II.
'SANA'S Midsummer21' is an enchanting piece with a gorgeous embroidery work all over the skirt. This maxi is surely going to fetch you two tons of compliments!
With pretty brocades and chiffon details, these Maxi dresses are perfect for both casual outings and special occasions. The light fabric allows you to stay cool during the day with comfort. With a touch of net and sequins, these outfits add a unique touch to your wardrobe. 
https://sanas.pk/products/s1024
Dress your little fashionable diva in SANA'S Midsummer21. This banarsi jacquard kurti features contrasting embroidery around the neckline and sides, lace and trim finishing on sleeves and daaman. It is paired with matching tights. This designer dress will add a touch of royalty to her wardrobe.
https://sanas.pk/products/f5013
Sana's Midsummer21 Collection High low hem frock having cap sleeves and oversized flower with silk belt at front.
SAANA's Midsummer21 collection is a perfect combination of the summers and festive. This frock with high low hem have cap sleeves as well oversized flower work on front portion with silk belt at front Look elegant and outstanding this time. Definitely worth buying.
This silk dress is exclusive of Sana's Midsummer 21 Collection. To give you an instant update, we have designed this elegant sequin net frock and added a black, blue and cream colored oversized flower at the front. It has cap sleeves and a tie up front. So join the moto of Sana Midsummer 21 collection which is like 'look fashion and be trendy'.
Always contemporary and always trendy, this high low hem frock showcases a cap sleeve frock with an oversized flower at the waist. The belt perfectly ties together the look.
SANA'S Midsummer21 Collection is best to wear on any exciting occasion. This collection is designed according to the latest patterns and styles. It consists of romantic fabricated with net sequins and zari work. The outfits are best suitable to wear on party or for occasion wear.
Fabric: Net Sequins
SANA'S has launched the stunning midsummer collection for women. It consists of all the dresses which is loved by women and everyone wants to wear them in new season. The designer SANA'S has launched the stunning midsummer collection for women. It consists of all the dresses which is loved by women and everyone wants to wear them in new season.